This is a summary of the research study: Snack quality and snack timing are associated with cardiometabolic blood markers: the ZOE PREDICT study.
The Yolk
Is there a relationship between snacking frequency, quality, and timing and cardiometabolic health?
854 healthy adults reported snack intake, hunger rating, and physical activity
Gut samples and cardiometabolic blood tests were done
Snacks were categorized into processed level and quality

Highly processed vs. less processed
Nutrient content
What are cardiometabolic measures?
Noteworthy Results
Frequency of snacking

Not associated with any cardiometabolic changes
Not associated with body weight measures

Quantity of snacks

More snacks per day associated with:

higher intakes of sugar and fat
more calories consumed

Quality of snacks

Meal and snack quality was not always the same

Processed level of snacks

Unprocessed snackers had:

lower body weights
lower glucose levels
lower triglycerides

Timing of snacks

Late evening snackers (after 9 p.m.) had significantly worse measures of cardiometabolic health

Higher glucose
Higher triglycerides post snack
Poorer snack quality

Snacking and the gut microbiome
Other fun facts
The most calories consumed were at dinner for most participants
Snacks tended to be higher in carbohydrates, fats, and sugar and low in protein

Popular snacks included drinks, candy, cookies, brownies, nuts,seeds, fruits, bread, cheese, cakes and pies

Average snack intake was 2.28 snacks per day
Perspective
The main takeaway is those who eat snacks earlier in the day, higher quality, and the least processed had the best outcome of cardiometabolic measures
While many studies are needed to confirm, it has been shown that high quality snacks matter and will keep you full until meal time

Check to see that your snack isn't entirely carbohydrates and sugar

Fiber, protein, healthy fats are all good additions
Try for dinner to be the last consumed food for the day
Related Resources
Recommendations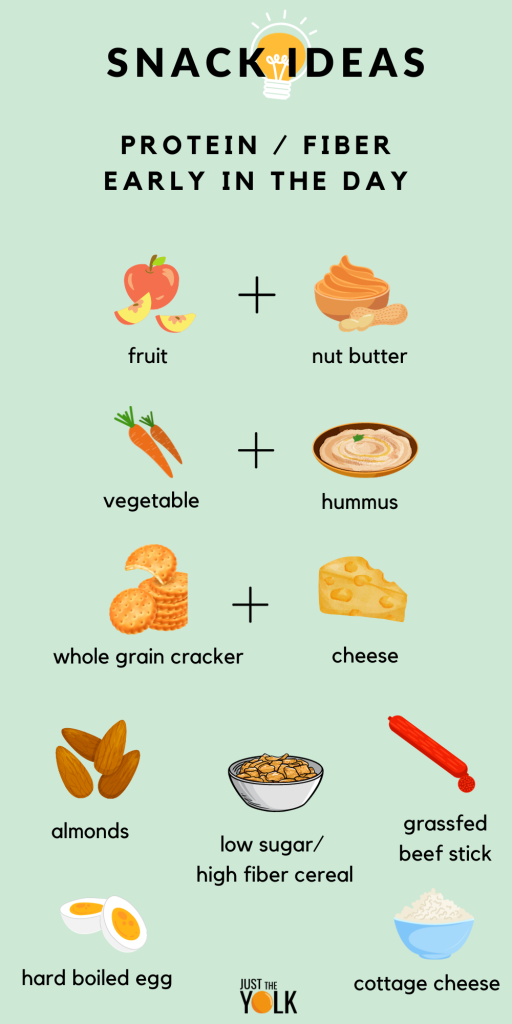 Citation: Bermingham, K.M., May, A., Asnicar, F. et al. Snack quality and snack timing are associated with cardiometabolic blood markers: the ZOE PREDICT study. Eur J Nutr (2023). https://doi.org/10.1007/s00394-023-03241-6