This summarized information is from Right as Rain by UW Medicine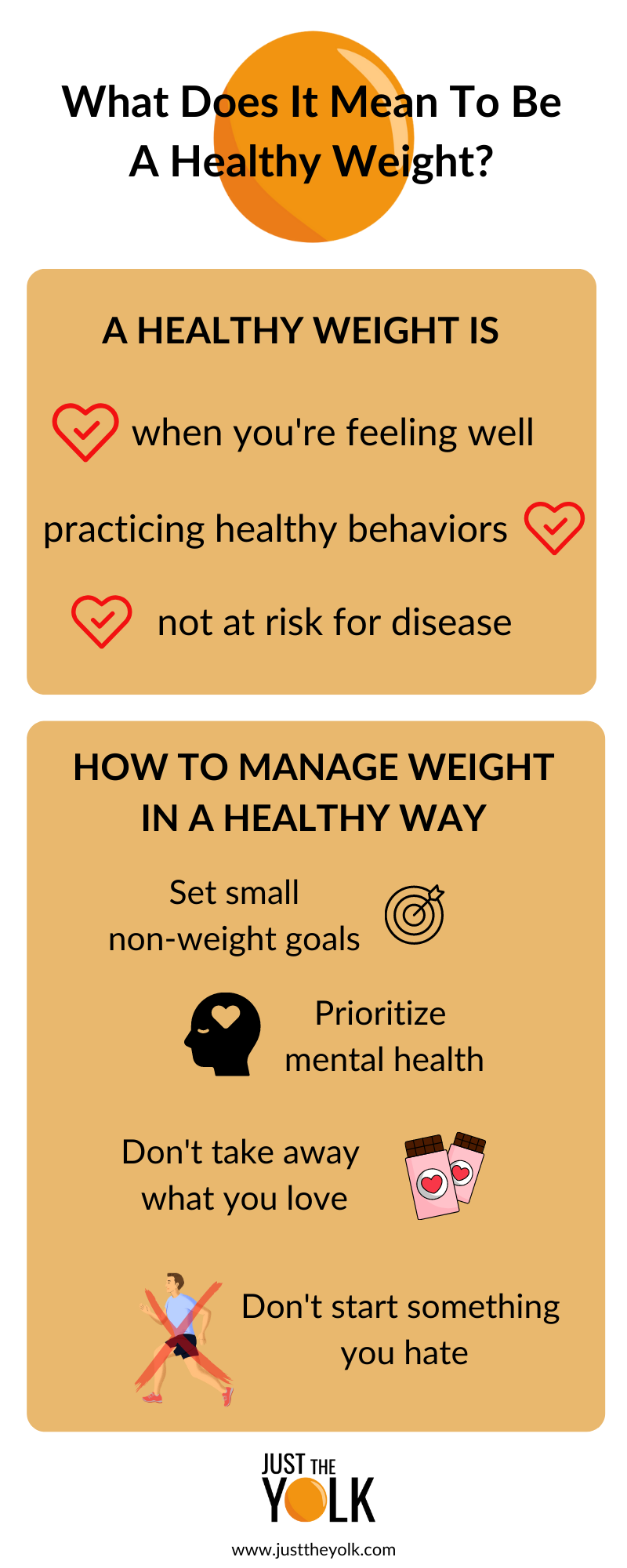 The Yolk
What is a healthy weight?
Depends on person and how health is defined

Generally, practicing healthy behaviors while feeling content overall
Everyone's healthy weight differs

Weight is gathered many ways (reliable and not)
Is any size healthy?

HAES approach (Healthy At Every Size) is popular now

Among women with disordered eating, it improved wellbeing and metabolic healthy
But excess body fat is associated with many conditions as listed below
Why is a healthy weight important?
Excess weight from body fat may lead to:

Diabetes, heart attack, stroke, depression, anxiety, cancer, arthritis, premature death

Too little weight from body fat may lead to:

Anemia, osteoporosis, poor immune system

Either of these also affect mental health
Weight is affected by more than diet and exercise
What else influences weight?

Genetics
Sleep
Stress
Hormones and hormone related conditions
Medications
Disease
How can weight be managed in a healthy way?
Make mental health a priority

If weight is taking over your life, it's not healthy

Do something enjoyable

Do not restrict entirely what you love
Do not start something you hate
Use small goals

Set health goals that are not about weight
Perspective
Healthy means feeling well mentally and physically with no complaints – practicing healthy behaviors regularly
Healthy in the medical sense might mean lab numbers are within normal ranges
Your healthy weight is unique to you, but should be defined as feeling well and not at risk for disease

Healthy At Every Size is meant for promoting healthy behaviors and overall mental wellness – not saying that obesity is healthy

Letting weight take over your life is not helpful and try to approach it in a more accessible way with smaller steps
Resources